Shree Kushadevi Higher Secondary School
From 20 Nov till Dec 7, EduLift conducted Spoken Word Poetry sessions for the class of 9c with 27 regular students. With assistance from the school authority, the facilitators were granted one class from their school period as "art and language" classes.
The objective of conducting a poetry session was:
To foster basic proficiency in both oral and literate domains of the English language.

To introduce and enable students to write free verses.

To enable students to develop their speaking and listening skills.

To enable students to build their performance skills and create individual/group works of poetry presentation by the end of the session.           
One of the main motives of the facilitators was to make the learning environment engaging and comfortable for the students. The facilitators made sure that there was a freedom of speech i.e. the students were allowed to share and present their ideas and works in either Nepali or English. This encouraged the students to be more participative and open about their expressions.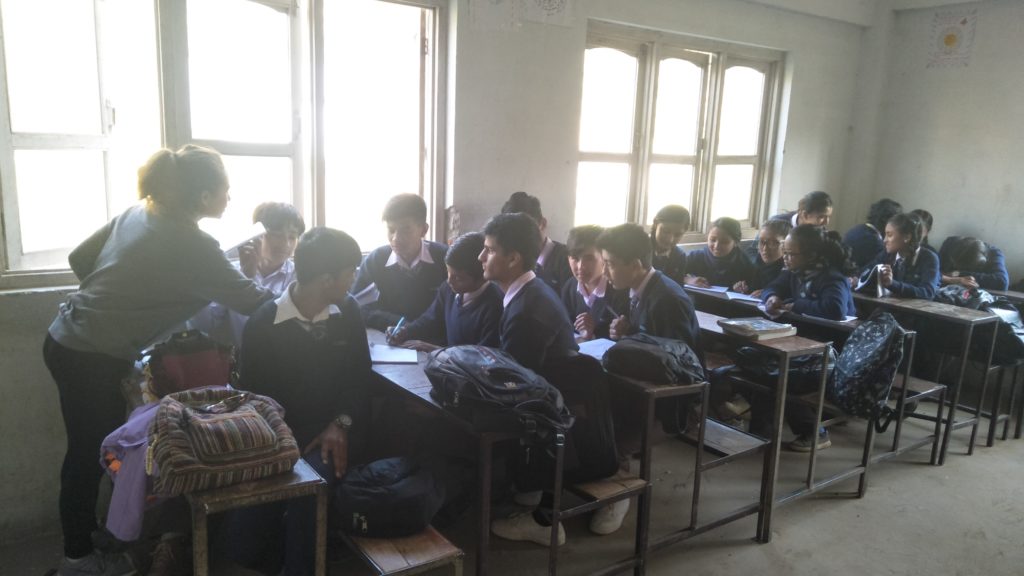 The facilitators started their everyday session with a warm up activity followed by a lesson/group work/individual work.  Class activities such as free writing (essays and letters), open discussions about poetry videos, pair poems, practicing sounds of poetry, and elements of poetry were conducted.
After the two weeks session, the students of 9c prepared a chart presentation on Spoken word Poetry for their fellow class section 9A and 9B as their final outcome. Also, class 9C took the main role in conducting essay competition for class 7 and 8 in their own school.
Conducting and leading a school event was the very first time for the students and so was the chart presentation. The class 9C also took the main role in conducting an essay competition for class 7 and 8 in their own school. This whole process was quite challenging for them because of having less exposure in their school but somehow, they strived for it and the final result was much better than the facilitator's expectations.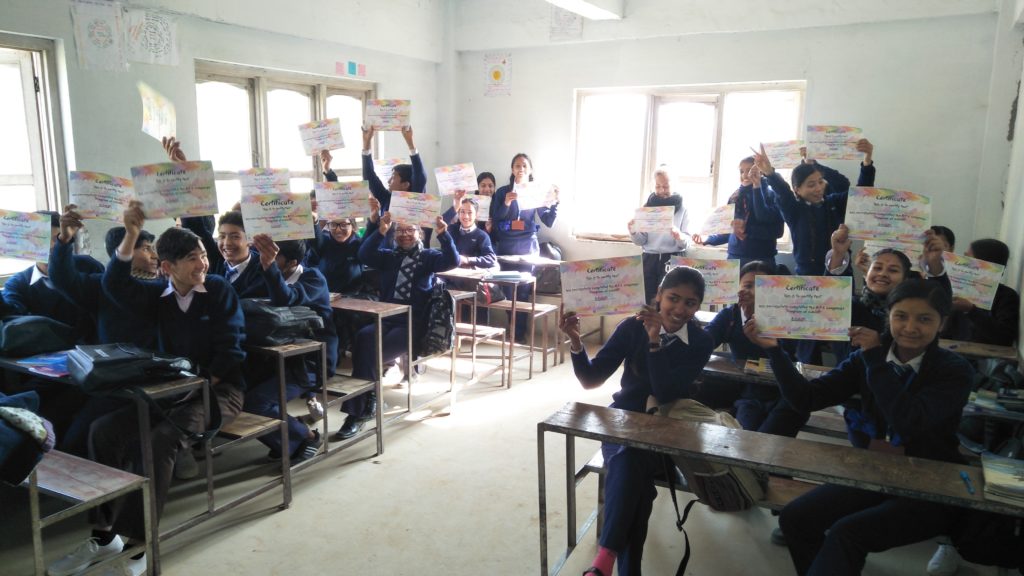 The facilitators also did a final class as certificate distribution and feedback session. The feedback from the students were very encouraging as they wrote: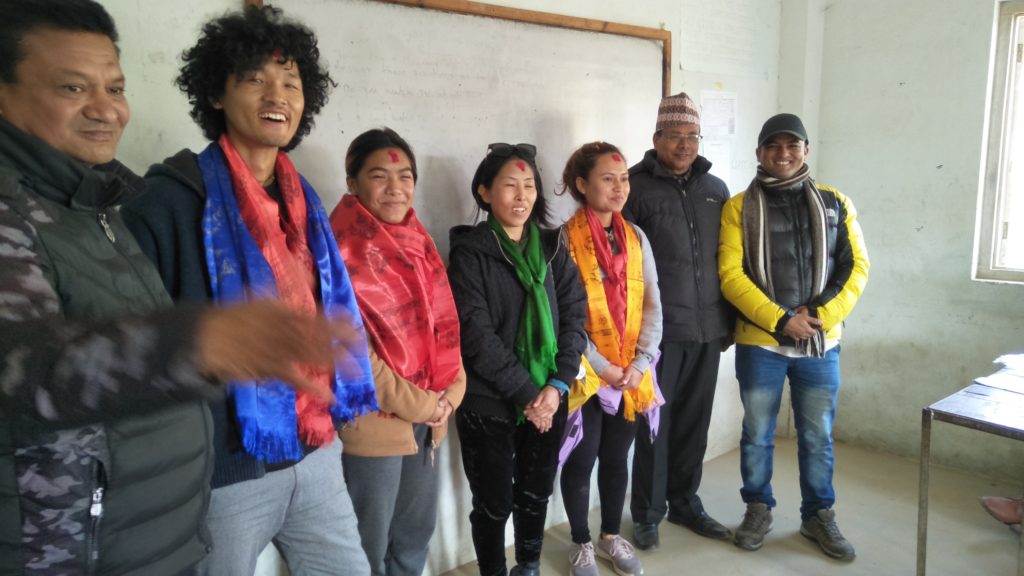 Shree Bhalchandra Secondary School
Facilitators of EduLift spent 18 days teaching Art and Language to students studying 9th grade in Shree Bhalchandra Secondary School. There were 25 students in total.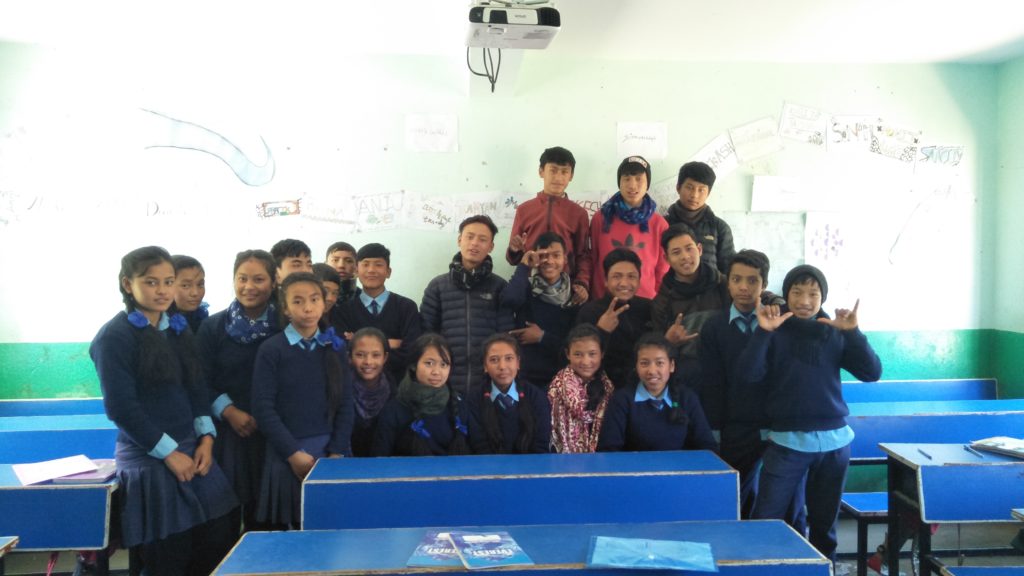 Since we were aware of the short period of classes we had with them, we decided to focus on the Art and Design part of the program intensively. However, due to the nature of our program, the students were not only learning about art and design but also developing their language and communication skills.
The first two classes were aimed to introduce our organization and our programs, specifically Art and Language Program. We also dedicated one class to know about each other so that we could create a comfortable and friendly learning environment where everyone was putting in a positive effort to develop skills.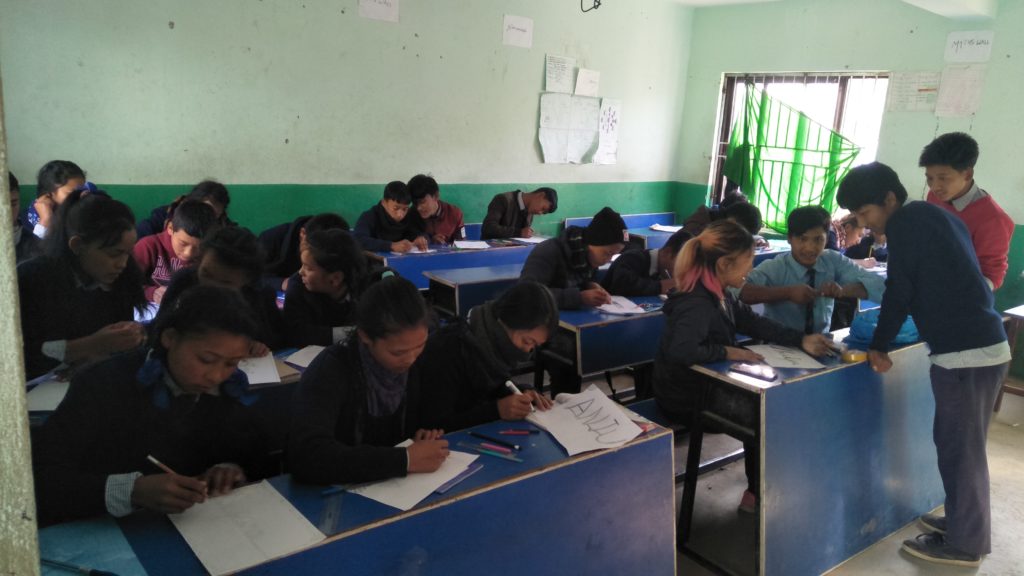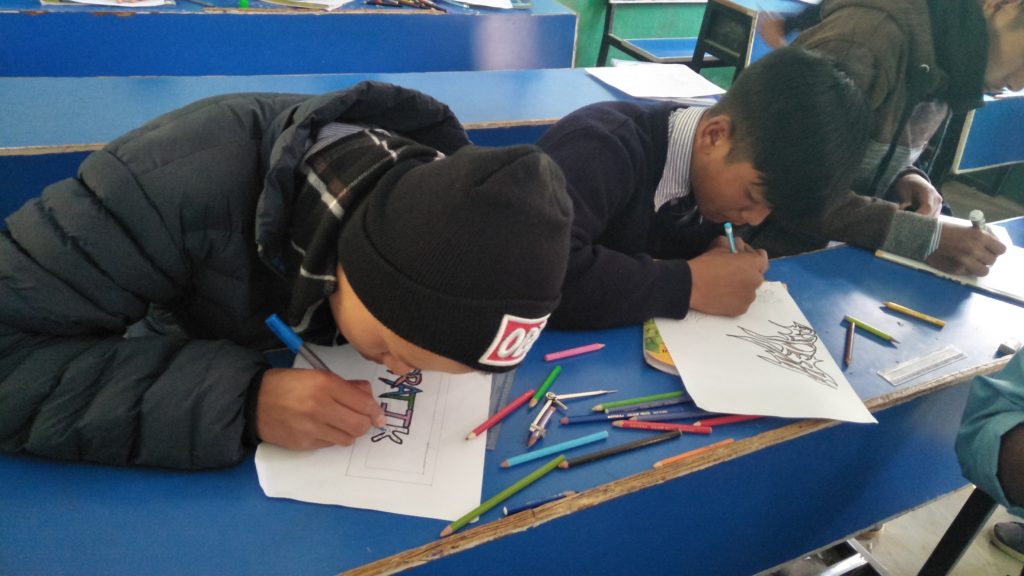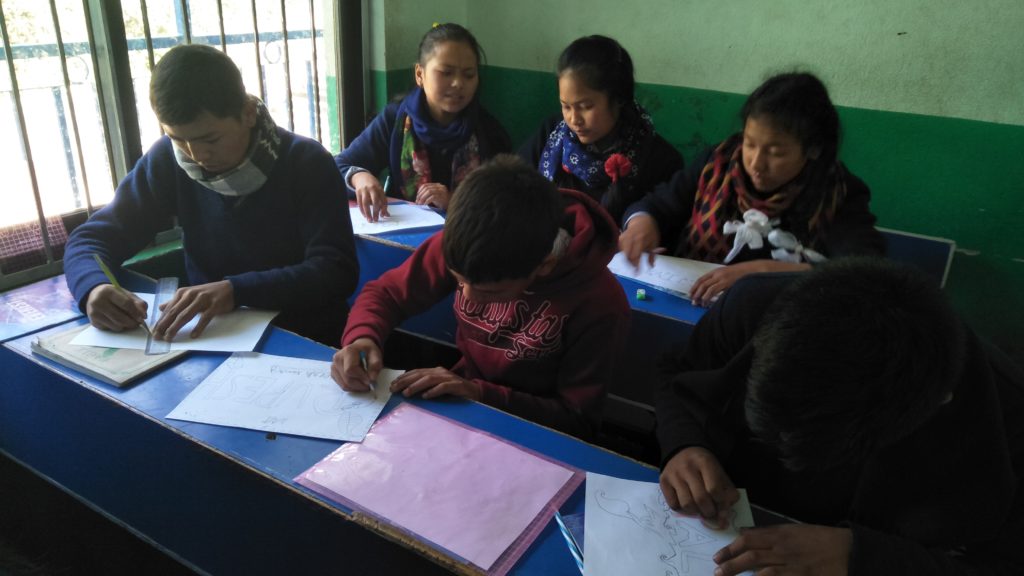 After the introduction, the students were introduced to what constitutes an art (Line, shape, size, pattern and color) and their subcategories like types of shapes, primary and secondary colors. We also allowed them to explore their surroundings, observe and write the name of the objects that have certain shapes. (Tika-a red mark/ornament worn on the forehead was what they wrote in the category circle)
We then introduced them to different art forms; doodling, origami and mosaic/collage. With an introduction to each art form, we made sure there was an environment for imagination and free thinking. Thus, rather than providing them with a content-driven class, which often leads to rote learning, we wanted them to be involved and thus brought discussions of what they thought about the various art forms.
The students and the facilitators also greeted each other with greetings of their choice. (Handshake, elbow hello, fist bump, high five and hug) This was to continue creating a friendlier bond.
We were also aware of the lack of extensive use of English, thus we had Word of the Day for each class which was then written to a chart paper for them to look. Furthermore, we made sure the examples we gave were culturally relevant and meaningful to them so that the content taught would be made more relevant by the examples.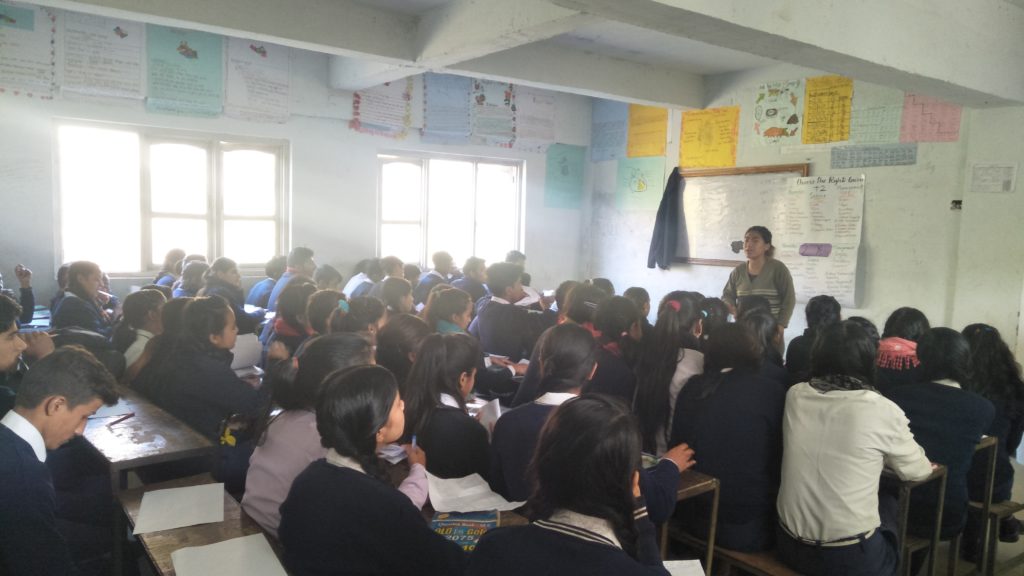 After one more class on problem-solving techniques to help them in their daily life, we went on to prepare for the final day where the students not only got a platform to showcase their creative skills but also to practice their leadership qualities.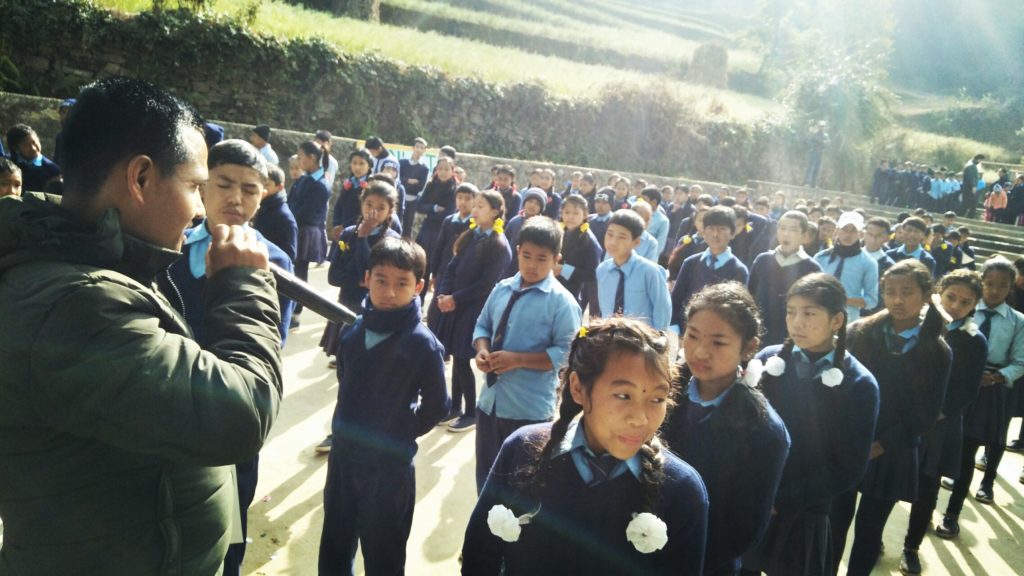 On the final day, the class 9 students were divided into 5 groups. Each group took in charge of one class (grade 4 to grade8). For grade 4 and 5 we had a movie screening. Meanwhile, the 9th graders were leading warm up activities and after that instructing the other students about the drawing competition. Each grade was given all the necessary materials (crayons, pencil colors, and paper). The topic of art was either a city or a village.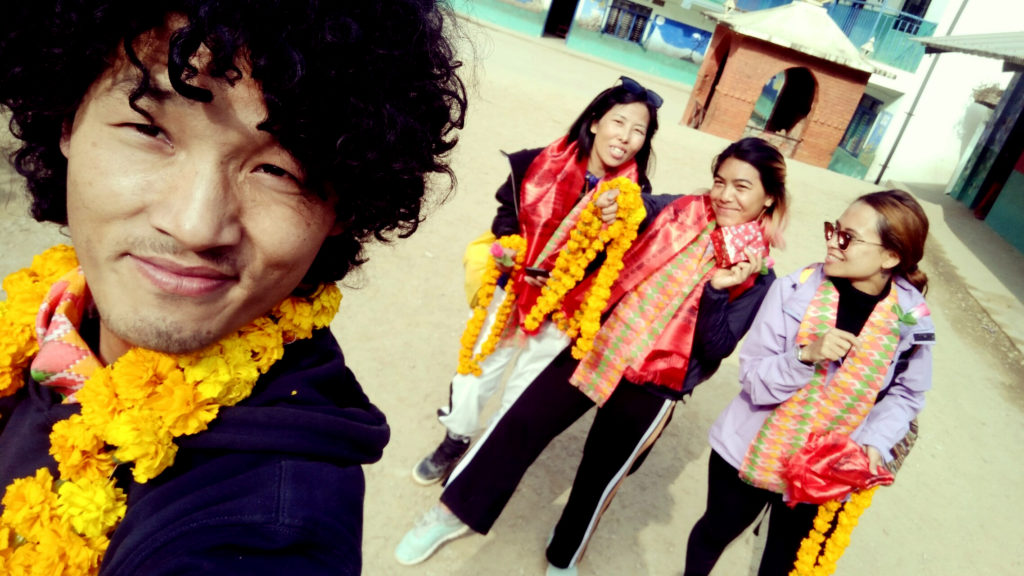 The 9th graders were giving their best when instructing and leading the other students on the final day. Also, from the feedback and suggestion sessions, we did on the last day, their responses were very positive and they were excited to know that we will hopefully be continuing our classes at their school for their now juniors.