Up until 2020, EduLift has been physically visiting the schools and has been conducting teacher training programs in the school but this year because of the COVID pandemic, we had to stop and revise the Teacher Training Program and redesign it. We were sure that the teachers didn't need an official or a formal training at this uncertain time but we were also sure of the fact that the teachers and the schools do need to have a conversation and understand each other; needed a space to come together. Also the sudden transition from the classroom to digital space presents teachers with various challenges.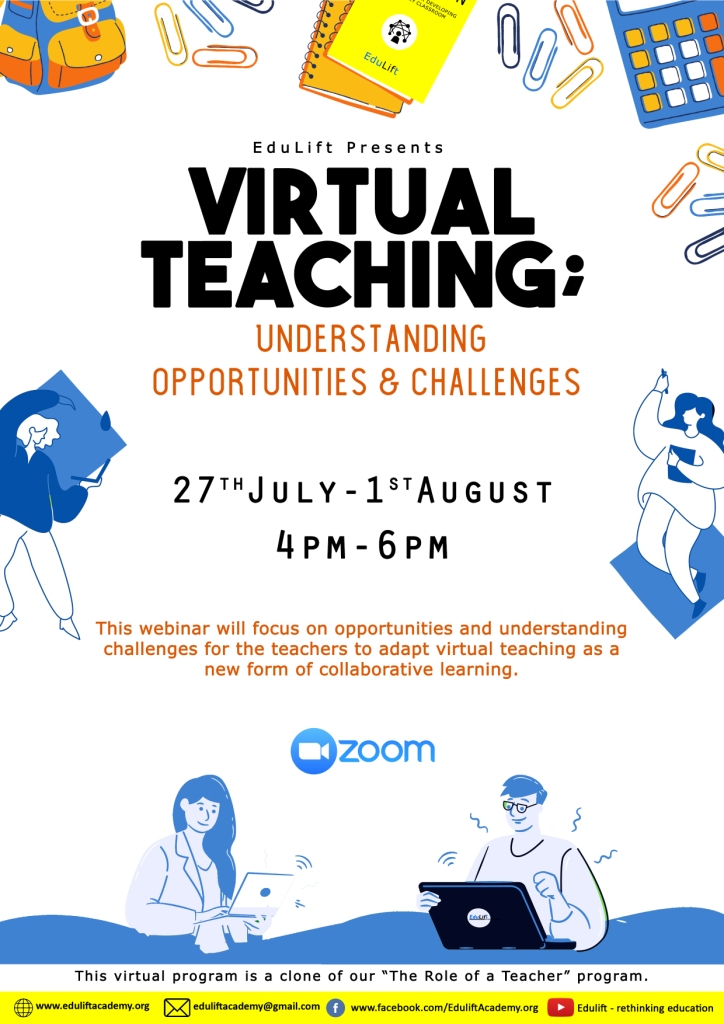 Therefore, EduLift conducted a six days webinar on "Virtual Teaching; Understanding Opportunities and Challenges".
The Webinar was specifically designed and created by the EduLift, in response to the need of creating a space where the teachers and educators from several schools and organization could come together, converse and understand what is happening in terms of online classes, what factors are creating challenges for the teachers, the school and also to identify, highlight the isolation some teachers/educators are going through in Nepal.
And now that physical schooling is limited we all have been forced to adapt virtual teaching learning and in fact this change was highly needed. The current situation is a chance and an opportunity to reinvent how we teach and to Re-think education.
Program objectives:
To encourage a new way of teaching and learning through online classes.
To provide an interactive space to understand the opportunities and challenges of online teaching.
To minimize the feeling of being isolated by creating a community of new age teachers who support each other.
Program Date: 27th July – 1st August
Program duration: 2hrs (Monday –Saturday)
Total number of registration: 125
No. of participants: 72
Schools participated:
Namgyal High School,
Namgyal Middle School,
Srongtsen Bhrikuti School
SOS PokharaSchool,
Mount Kailsah School Pokhara,
Shree Mangal Dvip School
Manjugoksha School
Bright Horizon School
Sambhota Tibetan School Kollegal, India
Nehnang Pawo Monastery
| | |
| --- | --- |
| Sessions | Program |
| Orientation | Orientation and icebreaker |
| ( Beyond Classroom) | Challenges and Opportunities of online teaching and learning |
| ( Online Classroom) | Strategies and Positive Outcomes |
| ( Rethinking Classroom) | Bringing online teaching strategies into the classroom |
| ( Rethinking Education) | Reopening school and beyond |
| Conclusion | Feedback |