An 8 week full time course EduLift's 'Explore program' develops the skills and competencies essential for the pre SLC graduate students to confidently take on the variety of challenges they will face both academically and personally.
The course covers intellectual skills such as critical thinking, problem-solving, source analysis, social-emotional skills, it also enhances linguistic ability and exposes students to the global themes of technology, health education, social issues, environment and entrepreneurial skills.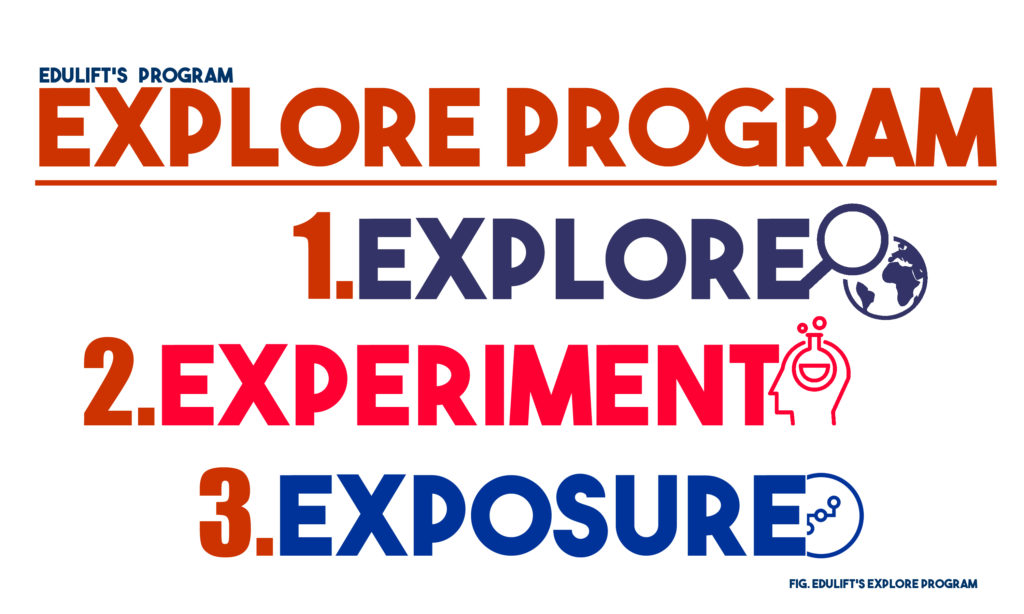 The curriculum ensures exploration of these themes through hands-on practical projects which include case studies, cultural arts reviews, creating and managing social campaigns, research projects, field visits, and facilitating relevant and useful conversations with peers and relevant outsiders.
This experimentation is key to effective learning not only for the subject matter but learning self-awareness and self-management. With the help of weekly themes, students explore their interests and discover their own potential. Once students have experimented they develop an understanding of their personal preferences, work ethics and interests,
The exposure element of the course also supports students to interact with leading experts in a variety of working fields in the public and private sectors. In the final weeks of the course students also present their project work to relevant audiences giving an opportunity to meaningfully contribute to their chosen field.
Overarching Goals/Big Ideas
Developing intellectual skills such as critical thinking, problem solving, source analysis as well as social-emotional skills and social responsibility.

Nurturing important performance characters such as curiosity, creativity and collaboration.

Enhancing students' linguistic skills, particularly the oral-communication and reading skills.  

Exposing students to global themes and topics such as environment, technology, health, social impact and entrepreneurship and ensuring exploration of these themes through hands-on practical projects. 
Expected Learning Outcomes
Students will be able to develop a certain basic mastery of skills such as critical thinking, problem-solving, analytical skills and socio-emotional skills.

Students' curiosity, creativity and collaboration spirit are ignited and enhanced.

Students' will be able to improve their linguistic skills, especially their speaking skills.

Students will have a better understanding of global themes and topics and learn how to become problem-solvers.
Exposure:

Through Guest Speaker Series & Field Visits, students get exposed to specialists from different fields of expertise. This enables possibility of further networking and mentor-ship opportunities. Also, field visits allow students to receive first hand experience about the working environment of any given field.

Explore: Career counselling enables students to explore their career interests and further academic/work plans. The intensive individual as well as group counselling sessions prepare students to create their own Individual Action Plans.
Experiment:

The day-to-day class activities are filled with group projects/challenges. Students initiate the project/challenge topic, research ways to plan the project, work in teams and collaborate to implement it and finally present it to their class and guests at EduLift. These projects however, have to address some social issues or create social impact to members of their community as building social responsiveness is at the core of EduLift's organisational values.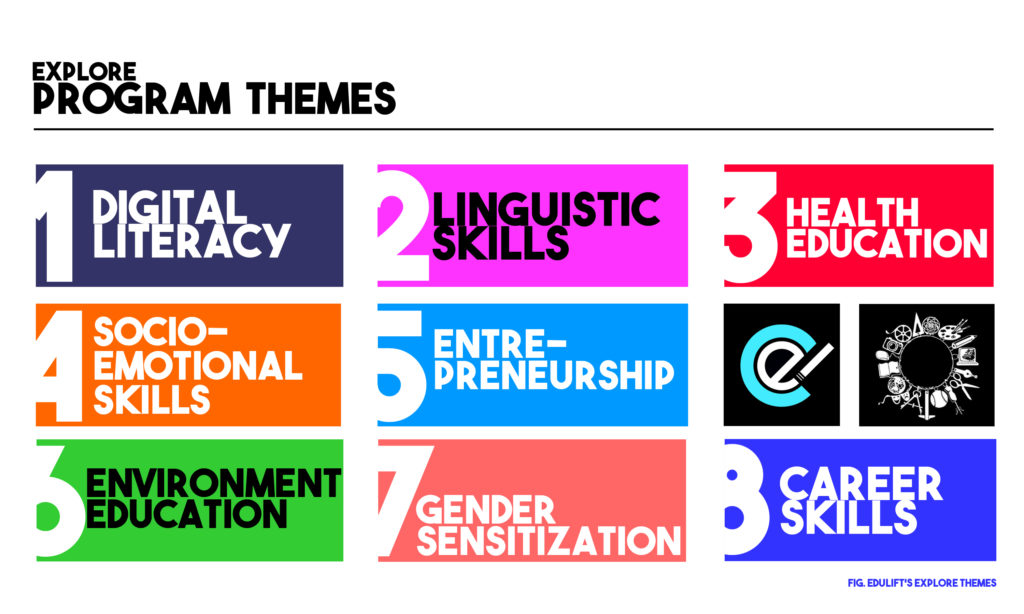 While the first course – Explore with EduLift was done among high school students from 15-Dec, 2013 to 31-Mar, 2014, the second course Explore Program, 15-Apr to 21-Jun, 2014, took place among students who had recently given their School Leaving Certificate (SLC) exams.
Take a look behind on our journey with our Explore courses through our section EduLearning.