An 8 week full time course EduLift's 'Explore program' develops the skills and competencies essential for the post SEE graduate students to confidently take on the variety of challenges they will face both academically and personally.
The course covers intellectual skills such as critical thinking, problem-solving, source analysis, social-emotional skills, it also enhances linguistic ability and exposes students to the global themes of technology, health education, social issues, environment and entrepreneurial skills.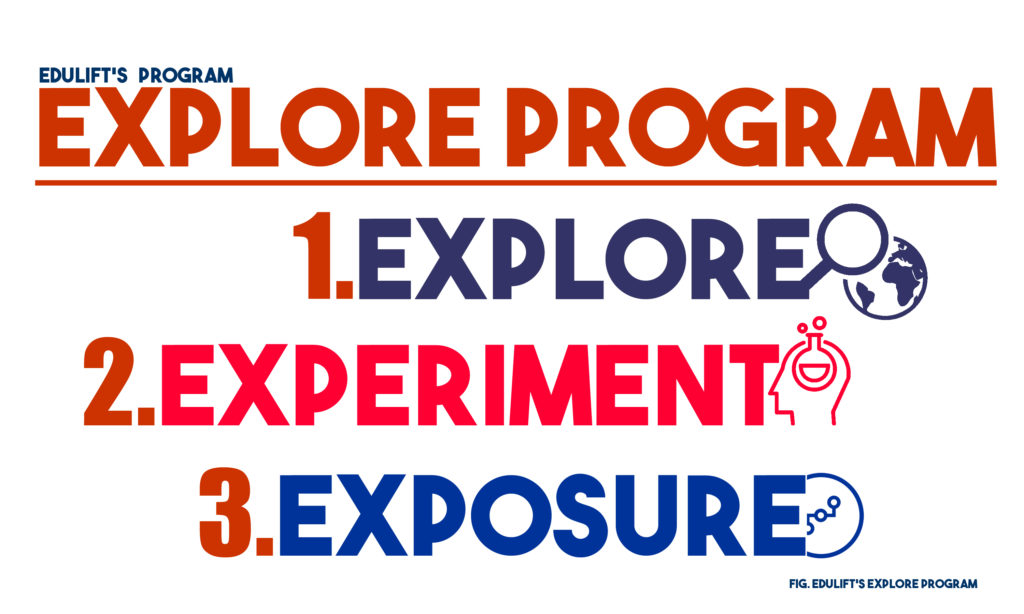 The curriculum ensures exploration of these themes through hands-on practical projects which include case studies, cultural arts reviews, creating and managing social campaigns, research projects, field visits, and facilitating relevant and useful conversations with peers and relevant outsiders.
This experimentation is key to effective learning not only for the subject matter but learning self-awareness and self-management. With the help of weekly themes, students explore their interests and discover their own potential. Once students have experimented they develop an understanding of their personal preferences, work ethics and interests,
The exposure element of the course also supports students to interact with leading experts in a variety of working fields in the public and private sectors. In the final weeks of the course students also present their project work to relevant audiences giving an opportunity to meaningfully contribute to their chosen field.
Objectives :
To expose students to global themes and topics such as environment, digital literacy, health education, social impact, gender sensitization and entrepreneurship and ensuring exploration of these themes through hands-on practical projects. 

To treats contents as "means" and skills as the "end". But the focus of the classroom instruction is on skill acquisition and development. 

To help students to develop intellectual skills such as critical thinking, problem solving, source analysis, as well as social-emotional skills and social responsibility.

To raise a balanced approach in the education of "mind" and "heart" promotes a positive and holistic personal development.

To provide students with practical knowledge and training about a range of issues that they face daily, and connect academic learning with social well-being.
Phases: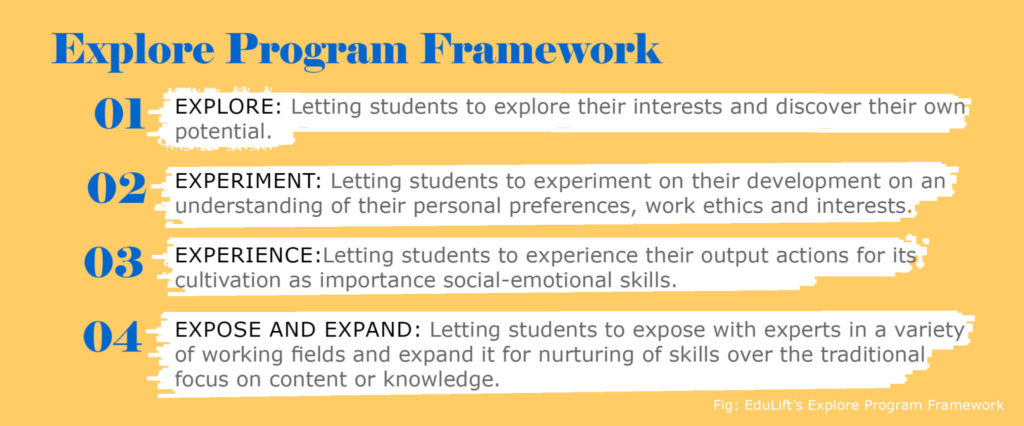 Exposure:

Through Guest Speaker Series & Field Visits, students get exposed to specialists from different fields of expertise. This enables the possibility of further networking and mentorship opportunities. Also, field visits allow students to receive the first-hand experience about the working environment of any given field.

Explore: Career counseling enables students to explore their career interests and further academic/work plans. The intensive individual, as well as group counseling sessions, prepare students to create their own Individual Action Plans.
Experiment:

The day-to-day class activities are filled with group projects/challenges. Students initiate the project/challenge topic, research ways to plan the project, work in teams and collaborate to implement it and finally present it to their class and guests at EduLift. These projects, however, have to address some social issues or create social impact to members of their community as building social responsiveness is at the core of EduLift's organizational values.