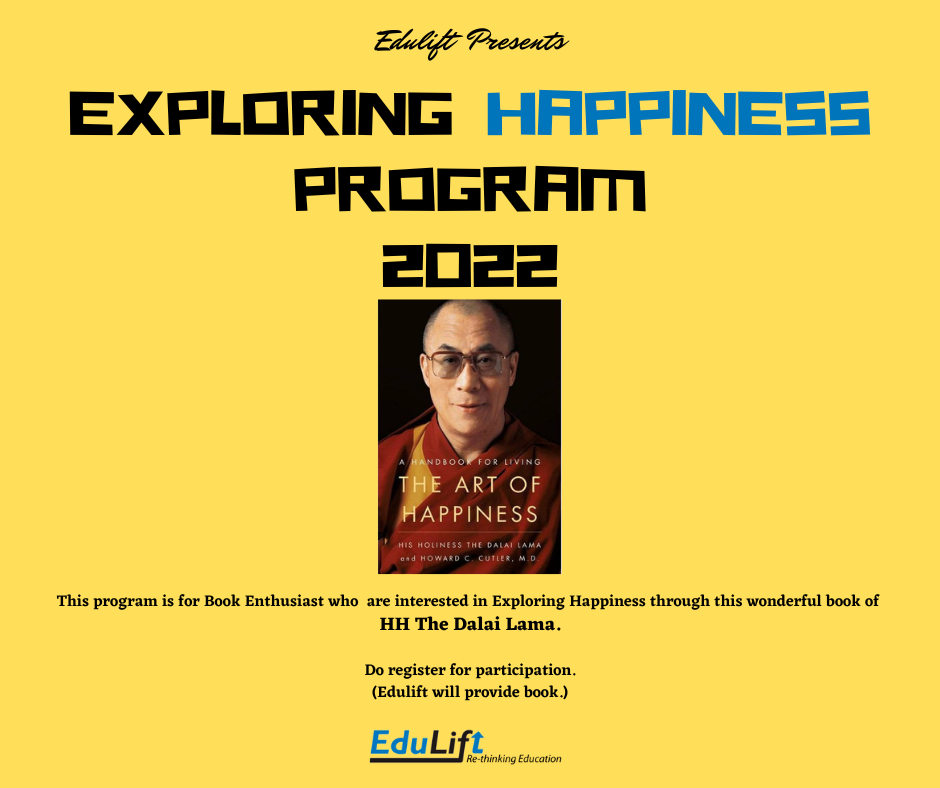 ---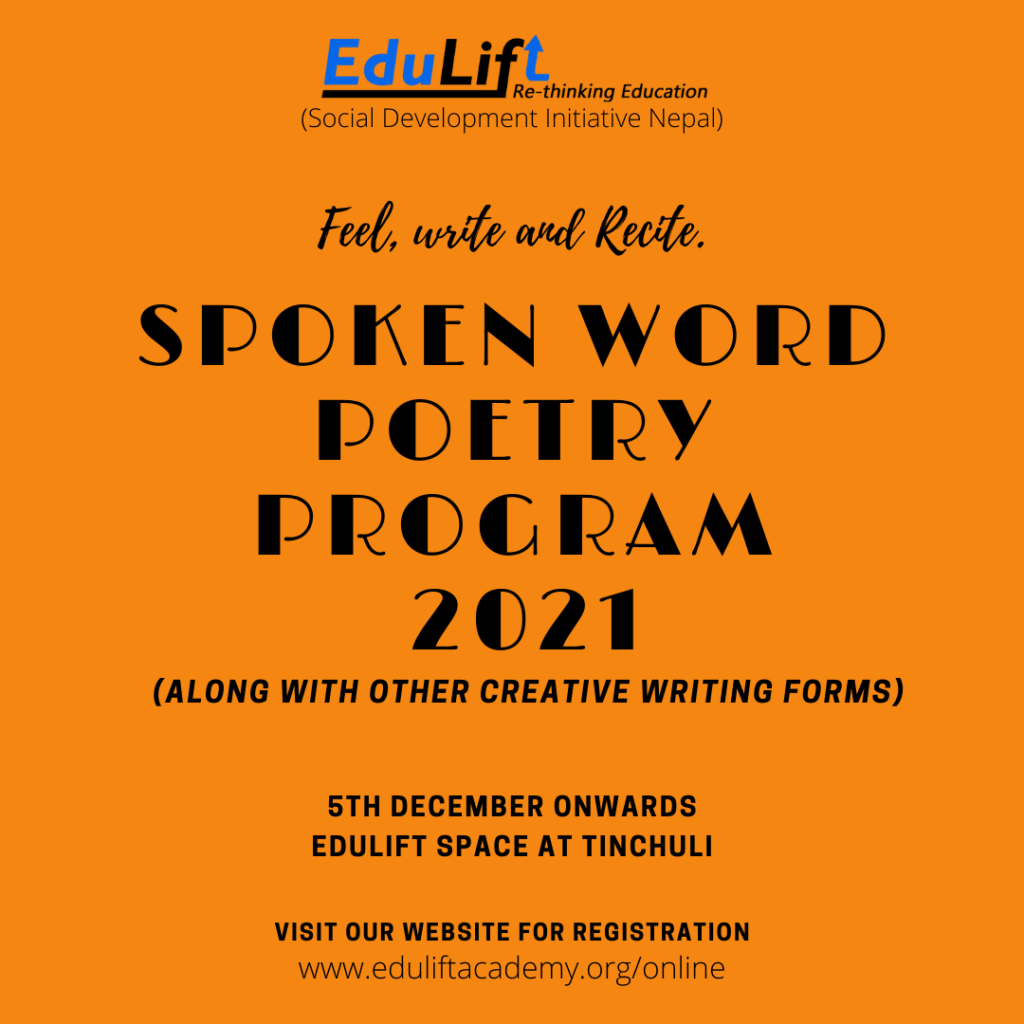 Spoken word poetry is the second phase of the EduLift Art & language program. This course deals with poetry in the spoken sense, which means that it needs to be recited or spoken aloud to an audience along with building your life-relevant skills and competencies. With the lesson learnt from the Virtual version of the Spoken word poetry program 2020 conducting an online program was a bit of a challenge due to unscheduled power cuts, unstable internet and limited resources to the participants this year EduLift Team is prepared to conduct this program in its own Office space with a limited number of participants in a safe environment as possible. As per Covid-19 response, schools are still developing Strategies to Run physical classes back inside school premises allowing outsiders a risk to them. With the open Participation and limited participation in this program, we believe the impact of the program will be more visible and Effective. This year along with the learning our participants will also have their poems published in different media like blogs, websites, magazines and perform in various public spaces inside Kathmandu.
To register Click here

---
Exhibition Introduction
Shunyata : A Reflective Journey of a Separate Self
Identity|Moments|Happiness

This photo exhibition "Shunyata : A Reflective Journey of a Separate Self – Identity|Moments|Happiness" is the final outcome and celebration of the hard work these young minds have created, with full assistance from EduLift, Sagar from Nepal Picture Library and Sahil, who is an independent thangka artist.
This exhibition sheds light on the concept of Shunyata which is a key concept of Buddhist Philosophy. The Dalai Lama says that shunyata is the absence of an absolute essence or independent existence. Simply, it means nothing exists as it appears as it is always dependent from one form to another. Following this philosophy, our participants have taken journeys within themselves and around the vibrant Kathmandu city. Each of the participants' photographic work here has specific tales which serves the purpose of telling the visual stories of reflective self as, who am I? (Identity) Home, Embracing moments and Happiness.

---

Program Objectives:
To develop creative ways of storytelling through photography along with an assistance in enhancing their competencies and skills.
To practice self reflection through storytelling and photography .
To guide the participants towards understanding the photographic scenario in collaboration with experts and professionals.
To facilitate the participants to build their own photo portfolios for their future references and provide them opportunities to professionally exhibit their final work.
Program Detail
Program Date: 15th August onwards
Class Time : 4-5:30 PM ( Sun-Mon-Tue-Wed-Thu)
Medium of Language: English/Nepali/Tibetan
Program Platform: Zoom
Program Cost: Free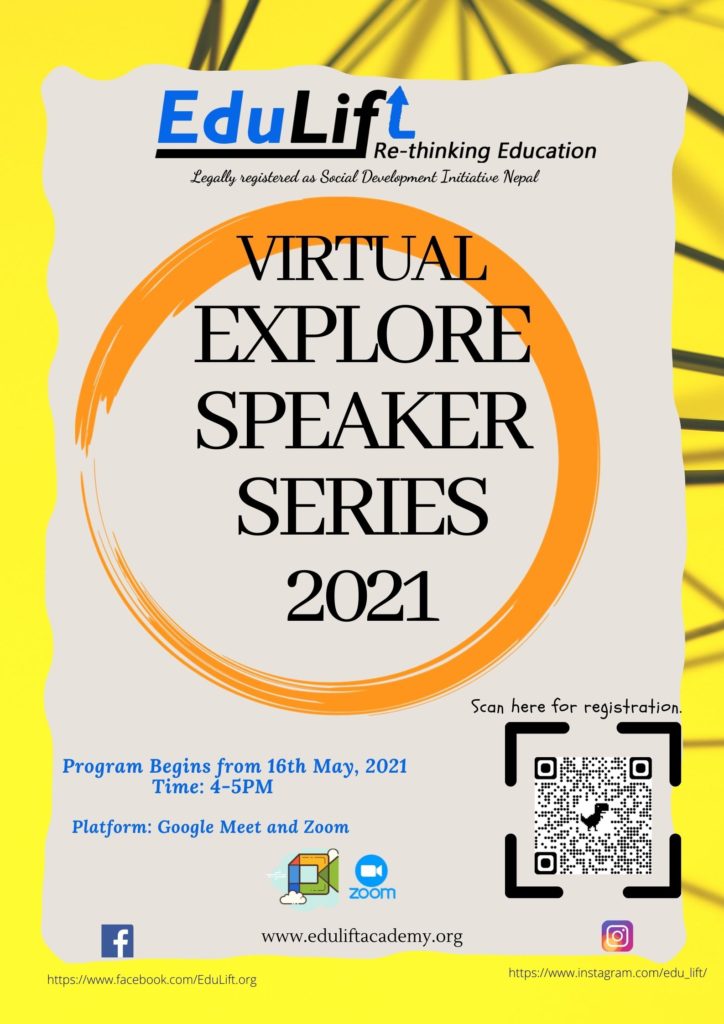 A special cost-free program designed to improve intellectual skills, nurturing important performance characters and enhance linguistic skills by introducing new themes weekly; which will be explored, experimented and exposed digitally with hands-on practical projects to help participants life-relevant competencies and skill sets with compassionate aspects, along with weekly speakers, experts and facilitators guiding you all throughout the program.
Program Title: Virtual Explore Speaker Series 2021.
Program start Date: 16th May, 2021.
Program Platform: Zoom
Program seat limit: Open
Program cost: Free

Foster's free-thinking for students/participants to translate their visualization, imagination into a concrete product, be that written poetry or poetry recitation to encourage creative expression.
Program Date: 22nd Nov till 22nd Dec, 2020
Class Time : 2 hrs per day ( Sun-Mon-Tue-Wed-Thur)
Medium of Language: English
Program Platform: Zoom and Facebook
Program Cost: Free
Eligibility: below 23 years
Visual Art and Design Contest 2020
EduLift In collaboration with Hope & Challenge and Drokpo Nepal is pleased to announce a Visual art and Design Contest on "Youth Tribute to the Essential workers".
CONTEST OBJECTIVE
The Visual Art and Design Contest " Youth's tribute to the essential workers" is to use Art and Design as a medium to celebrate and pay message to all the essential frontline workers, who have been working non stop despite this COVID pandemic and encouraging observation of the environment as a source of artistic expression and visual thinking
HOW TO ENTER:
Once your artwork is ready you have to submit it through following link.
A photograph of your work,
A video record of you describing your art work ( Max 3mins) and (optional)
One photograph of yourself to this link ( CLick Here to Submit)
Once a photograph is submitted, it is considered a final submission and may not be modified, edited, or replaced.
Contestants may submit no more than one entry.
Your submitted art works are going to be used for an exhibition virtually or in house.