Edulift at Nepal's biggest educational fair 2016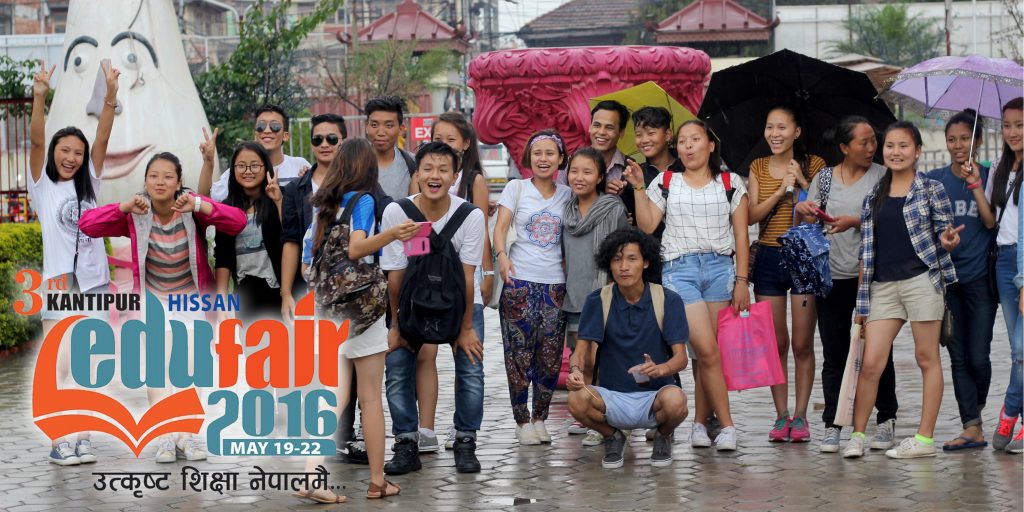 Kantipur Hissan Edufair-2016, organized by Kantipur Publications and Higher Secondary Schools' Association Nepal to promote domestic colleges, is being organised in the Capital from May 19 to 22. The third edition of the annual education fair is being conducted after a gap of two years as the event last year had to be cancelled due to the earthquake.
The fair which will host stalls of more than 100 higher secondary and university-level colleges in the country aims to provide students and guardians information on the types of Nepali colleges, after SLC colleges and  degrees available held in Nepal Exhibition Hall at Bhrikuti Mandap. This is one of the biggest education fair in Nepal. It gives an opportunity for the parents and students to interact with different colleges in Nepal under one roof.

We the Edulift family join the Edufair on the first day. 24 of us flooded in, including 3 facilitators. Edulift took part in fair as this would be a good way to gain students insight into what they are seeking in an educational institution. Since, all the students are SLC graduates so this Edufair was a platform to hunt for the +2 colleges that is suitable for them. Before stepping in students were quite confused of which college stall they should visit. But, with the vibrant environment there, students slowly got engage. Students even filled up the scholarship form and raised questions to the college representatives. The approach was successful as students interacted wholeheartedly. This participation in Edufair was a part of "Explore after SLC" program we initiated. . This is just a beginning as Edulift has still lot more to offer.