Event: Short Movie Screening for fund raising
Event Date: 23 September 2017
Location: Shechen Monastery, Boudha-Kathmandu.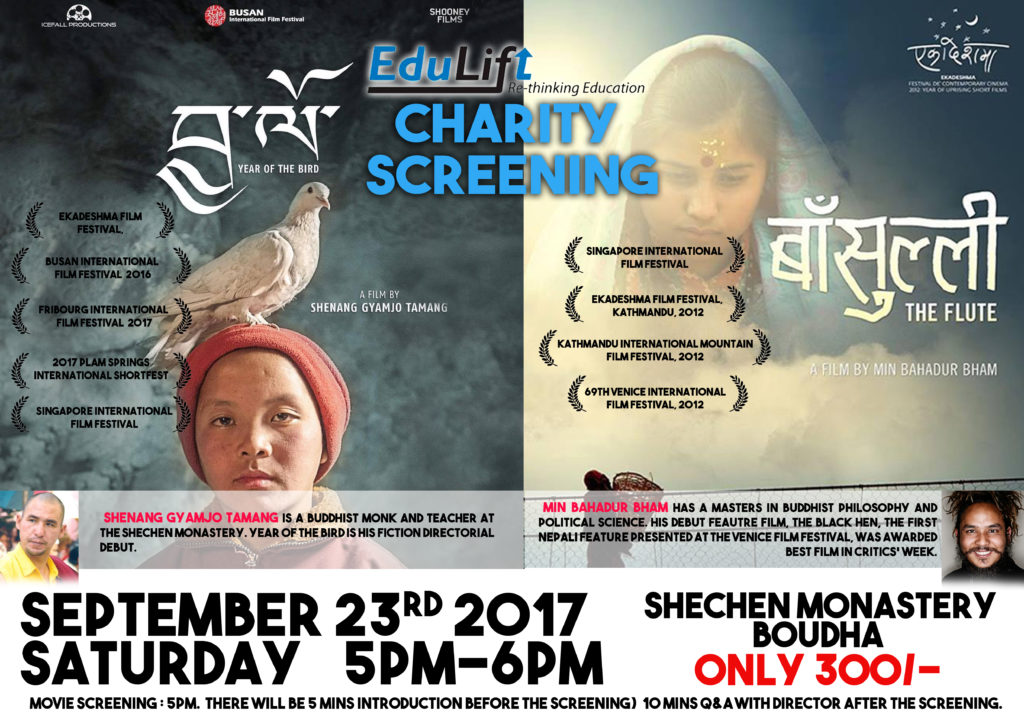 Objectives of the event:
 To have a sustainable fund for the Final event of Art and Language 2017.
 To plan, prepare and project a final event of Art & Language for a larger audience.
 To allocate the art and language students with required resources for them to help and
deliver the targeted goal.
 To offer a larger platform for the students to showcase their final performances utilising the
fund collected from the movie screening.
EduLift successfully organised its very first short movie screening with the sole motive to assist 136
students from 1) Namgyal Higher Secondary School- Gokarna 2) Srongtsen Bhrikuti Boarding School-
Tinchuli 3) Kusadevi Higher Secondary School-Kavre 4) Balchandra Secondary School-Kavre. These
136 students are enrolled this year in Edulift's 6 month Art and Language program which is a creative
learning space for all the students to develop their competencies and skills as creativity, critical
thinking, collaboration and communication through Art & Design, Spoken Word Poetry and Drama.
Every year, EduLift incorporates the students and prepares a final performance for each of EduLift's
educational programs. And this year in particular, Edulift along with the Art & Language program
students is aiming to prepare a final performance for a larger audience guiding the students to excel
from their usual learning space.
During the movie screening, EduLift acknowledged 135 diverse set of audience and was able to raise
Rs 40,500/- from the movie screening event and our expense was 8,835/-. Which include buying
white clothes for screening, refreshment, ticket, posters, and appreciation letters in a frame to both
the directors. It was overwhelming to witness such abundant amount of support from the whole
community and who came to encourage and support the objective of the event. We screened two
short movies 'Jha-lo and Bansuli', these both movies being among highly appreciated short movies.
The screening included question and answer session for each movie with the director himself which
concluded the event being interactive and informative for all the audiences.
The fundraising event 'Short Movie Screening' 2017 was a rewarding event for EduLift but mainly for
the Art & Language students.